iHerb Distribution Center in Easton, PA (WHAT TO KNOW)
Last Updated: November, 2023
In 2018, iHerb, the leading online retailer for supplements and sports products, announced the opening of its fifth distribution center in early 2019. iHerb's fifth distribution center is in Easton, PA (Pennsylvania). It is the company's fourth East Coast distribution center and the fifth in the country.
iHerb also has distribution centers in California, Kentucky, and Illinois and is about to open a new international distribution center in South Korea.
To ensure thorough quality control, the facility's 242,200 square feet are equipped with the latest technology and systems tailored to healthcare products.
As the business grows, the climate-controlled distribution center could employ over 300 people as it expands. 130 employees were hired when the facility opened.
With over 30,000 quality brand-name natural products shipped directly from state-of-the-art climate-controlled facilities, iHerb offers the best value in the world.
iHerb continues to display its commitment to quality and customer service with its investment in iHerb's distribution center in Easton, PA.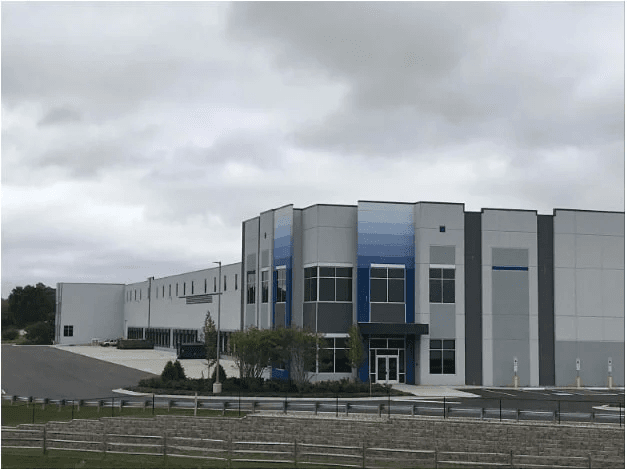 What Are the Benefits of Working at iHerb?
The employees at iHerb in Easton, PA, are at the core of the business. That's why the brand works hard to create an enriching and full of possibilities to grow into the definitive version of themselves.
At iHerb, the company is committed to providing programs that will assist individuals and their families stay healthy, live well, and plan.
These programs are built on a solid foundation and offer alternatives and upgrades that focus on flexibility, security, and protection.
What Are the Benefits to Reap as an Employee at iHerb?
1. Career advancement
At iHerb, they give you challenging projects to work on and the opportunity to gain new abilities. With a supportive system in place to stimulate creativity and develop forward-thinking ideas, the environment gives the staff the autonomy to adopt ownership of a project and bring it to life.
2. Perks and Discounts
iHerb makes it a priority to make all employees feel valued and cared for.
401k. Participating in a 401(k) is among the most effective strategies to save for a comfortable pension and a decent future. Hourly team members can usually enlist after their first paycheck, while salaried members can enroll after their second paycheck.
Life and AD&D. Basic Life and Accidental Death & Dismemberment (AD&D) Life Insurance offers stability and safeguards your family members when the worst happens. With iHerb, you'll get $50,000 for basic life and accidental death and dismemberment coverage; however, it's subject to reduction depending on age. The company will not charge for that coverage.
Health and Wellness. Do you feel under the weather? Complimentary telemedicine services help you save money while also choosing where and when you receive care. Virtual visits from Teladoc provide you with immediate access to a qualified medical practitioner who can address common ailments like allergies, flu, cold symptoms, earaches, pink eye, rashes, sinus infections, etc.
EAP. The Team Member Assistance Program, which Cigna runs, provides value-added services and programs at zero cost to you whenever you need them. The private service is offered to you and your family to assist with various issues such as loss, stress, family or marital problems, and more.
Dental. Dental hygiene is essential for general wellness. iHerb dental plans, provided by Cigna, are intended to assist you in keeping a healthy smile by providing regular dental treatment and addressing any issues as soon as they arise.
Vision. Regular eye exams, contacts or lenses, and frames are all covered under the vision strategy for you and the insured dependents. Sunglasses, laser vision, and lens choice correction may be eligible for further savings and discounts.
Other benefits include:
Vacation and Time Off
Maternity/Paternity leave
Family medical leave
Paid sick days, vacation amp; holidays
Generous PTO
Military leave
Stock options
Tuition reimbursement program
Video game rooms
On-site happy hours
On-site gyms
Stocked kitchens
Sand volleyball court
What Are the Challenges of Working at iHerb?
At iHerb in Easton, PA, there is no planning; the brand does everything in real-time. Reporting is chaos, and the financial department is entirely new after about 24 years, and there are no projections.
Every day, they confront the staff with complex challenges and problems, so one must prioritize what is essential and concentrate on what they do well.
How Do You Apply to Work at iHerb?
iHerb offers you the resources you need to find your ideal work match and the support and freedom you require to advance your career. You apply for open positions by signing in to their site for job alerts.
Also, some agencies post their openings online, like Indeed. To obtain better job alerts, use the search filters on their site to improve your search.
What Is the Interview Process Like?
After shortlisting, you start with a one-on-one interview through Zoom. It takes around 30 minutes, if not more minor-basically, for any behavioral inquiries, such as your successes and failures.
What Are Some of the Different Departments at iHerb?
1. Human Resources
The staff is committed to assisting the employees in achieving their full potential and cooperating with other departments to promote a good, fun, safe and healthy work environment.
Internal participation is a crucial emphasis and foundation for the organization, which is working to improve the iHerb employee experience and roll out new initiatives.
2. Finance and Accounting
Is a hardworking and collaborative team that prides itself on solving problems in a fast-paced environment.
The company recently implemented SAP as their ERP system, and they're still working on process improvements with Robotics Process Automation (RPA).
Using a chatbot for financial information reconciliations, RPA enables the automation of recurring time-consuming activities, letting workers focus on value-added initiatives.
3. Marketing
The staff is fast-paced and dynamic, flourishing in an ever-changing online business and constantly seeking new ways to boost the brand's visibility via practical marketing approaches.
With dozens of media platforms, influencers, and advocates in the fitness, health, fitness, and wellness arena, iHerb is among the top worldwide eCommerce stores in the world.
4. Legal
This department is indeed a strategic and fast-paced business partner, handling a wide range of privacy, compliance, cybersecurity, contract negotiations, eCommerce, and international issues.
The team deals with cutting-edge legal matters and is critical in informing the business teams about legal regulations and their implications for the strategic business objectives.
5. iHerb brand
The team is dynamic, ambitious, and highly passionate about who they are at iHerb. The staff is completely involved in each stage of the process, from regulatory compliance to product development.
It is committed to producing high-quality health and skincare products for millions of clients across over 188 countries.
6. Customer service
The team consists of the front-line brand advocates based worldwide and assisting critical markets, including Russia, South Korea, and Saudi Arabia.
They speak 11 various languages and are available 24 hours a day, seven days a week.
People in the Customer Service department collaborate cross-functionally with other departments and have the option to advance their careers by moving inside.
7. Global Logistics
It's a team that ships to about 188 countries and take pleasure in constantly introducing new procedures to provide the clients with low-cost, rapid, and on-time delivery worldwide.
8. Purchasing
This department is in charge of finding, negotiating, pricing, curating, and pushing the most influential brands and items for the brand to carry.
Purchasing keeps up with fresh and emerging items, allowing iHerb to remain among the leading wellness and health stores.
What Is the Work Environment Like?
The culture is enterprising, varied, and caring, in their opinion.
iHerb's commitment to continuous innovation enables them to create an atmosphere in which individuals can thrive and quickly adapt, embrace new technology, and develop new skills that will allow them to be their most whole selves.
In its quest to be the most reputable global leader in healthcare products, employees are critical to its success.
What Does the Average Day Look Like for a Typical Employee?
With a fast-paced environment setting, there is much room for advancement. iHerb in Easton PA values autonomy while meeting stakeholder interests.
Therefore, on an average day for a typical employee and with the release schedule being aggressive because they want to become a worldwide eCommerce powerhouse, there is so much work to ensure it is accomplished before the day ends.
What Is iHerb?
The award-winning online shop specializes in health products and nutritional supplements, bringing customers the world's best variety of natural items at the best possible cost that they deliver most conveniently.
The brand gives people the tools they need to improve their health, well-being, and happiness. iHerb is an e-commerce business that sells over 30,000 different natural items at low prices to a global consumer base.
What Does iHerb Have to Offer?
The brand has been loyal to its objective since 1996, which is to provide the finest-curated range of health and wellness goods to consumers all over the world at the best possible price.
They ship to about 188 countries and regions with over 30,000 items. And are determined to bring the most outstanding healthcare products around the world.
Also, to provide the employees with exciting possibilities to establish successful careers, as iHerb is constantly expanding and innovating.
The brand strives for creativity and uses cutting-edge technologies to provide the consumers with an unsurpassed shopping experience.
The in-house technical staff is making headway by inventing industry-leading artificial intelligence (AI) and robotics that are revolutionizing the company's operations, assisting in automating their worldwide logistics chains, and guaranteeing that the products reach their clients quicker than ever before.
How Do I Find and Order from iHerb?
You will find iHerb online at iHerb.com. You'll have to create an account with iHerb to place an order.
You can log in as a returning user or log in as a new user. Or rather, you could use Google or Facebook to log in.
After you've signed in, go through the instructions below.
Find a product you like and click on Add to Cart.
Enter your shipping and billing addresses.
Choose your preferred shipping method and thoroughly understand each option.
Decide on a mode of payment.
Click on Place Order after reviewing it to finish your order. You will then receive an email as confirmation. It helps you know if you placed the order successfully, and then they will contact you.
Related Articles: